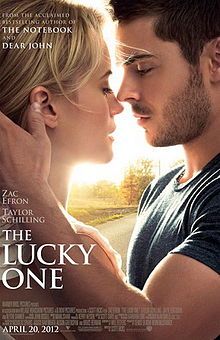 Last week my best friend dragged me to see The Lucky One. She insisted I had to see it (insert drooling here). While I haven't read a Nicholas Sparks book in a long time (don't get me started), I love the movies based off his books. Who doesn't swoon over A Walk to Remember and The Notebook? I wasn't sure we would make it because it was the last week the movie would be played at our theater and, well, I have a baby permanently attached to me. My friend ignored my excuses and took me (baby attached) to see it. I'm extremely glad she did and I may owe her forever. Because after the movie, I came home so inspired…I outlined half of my novel rewrite.
Publishers, prepare your offers.
Something about the movie, hit me at exactly the right time in the perfect way. I could blame it on Zac Efron (okay, maybe a little) but really, I blame it on the movie being full of the things that get my my muse's attention. Rain, beautiful green settings, water, a gorgeous house. Not to mention a hero any woman could fall in love with (insert drooling here as well).
Lately, I'd lost track of my inspiration, especially when it came to this novel. Over and over again, I ran into a brick wall that stopped me from moving forward and realizing the full potential of my story, but somehow, that hour and a half of inspiration pushed me right past it all at once. Hallelujah!
We all have little things that inspire us–music, movies, books, weather, etc.–and it's these things we should remember when we get stuck or can't seem to find the right mood for a scene. I may have forgotten this for a while but now I remember that these are our little shortcuts to brilliance.
Here are some things that inspire me:
Rain
Jane Austen
Showers
Twilight (the book)(the first one)
Anything by Taylor Swift
The Hunger Games Soundtrack
The Bachelorette (don't judge me)
Gravity by Sara Bareilles
Break Ups
Green Scenery
Northern Lights by Cider Sky
Country Cabins
Sense & Sensibility (Colonel Brandon fan here)
The Time Traveler's Wife
Count Me In by Early Winters
So You Think You Can Dance (talk about evoking emotions)
Jonathan Rhys Myers
Pride & Prejudice
A successful undisclosed woman in my life
Don't Make Me Wait by This World Fair
And, oh yeah…The Lucky One.
What are you inspirational triggers? What gets your muse's attention? What makes you feel brilliant?